The famous actor Bruce Willis' wife, model Emma Heming Willis, opened up about grief on August 30. Bruce's acting career was officially announced to be ending only a few months ago.
As was already established, Willis said that he had recently been diagnosed with aphasia. In the original declaration, Willis and his family made the following claims:
"To Bruce's amazing supporters, as a family, we wanted to share that our beloved Bruce has been experiencing some health issues and has recently been diagnosed with aphasia, which is impacting his cognitive abilities."
Since she made the announcement, Emma has been sharing bits and pieces of their summertime together. There were many pleasant times spent with family in it.
"This was the summer of self-discovery — finding new hobbies, going out of my comfort zone, and staying active," Emma admitted as the video showed her working out, playing tennis, biking, gardening, doing housework, and painting.
"My grief can be paralyzing but I'm learning how to live alongside it. As my step-daughter @scoutlaruewillis told me, grief is the deepest and purest form of love. I hope you find some comfort in that too."
Scout, who Bruce shares with his ex-wife Demi Moore, also commented on the video, writing, "This is so beautiful! I'm so proud of you, I love you so much!!!"
Other people also gave their bits of wisdom regarding grief. Another individual commented, "Grief will make you move mountains when you can hardly leap hurdles.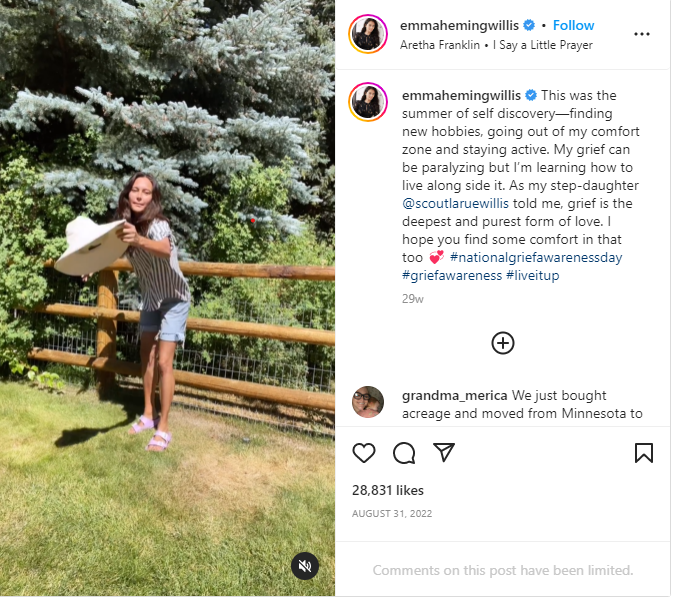 A recent video of Bruce and their pal playing music was also shared by Emma.
Emma's message was shared on National Grief Awareness Day.