Roseanne Barr became well-known after appearing in the enduring sitcom Roseanne, which ran from 1988 until 1997.
She starred in the series as the brutally honest Roseanne Conner.
The sitcom was well-liked because it provided an excellent and realistic representation of the typical American working-class family.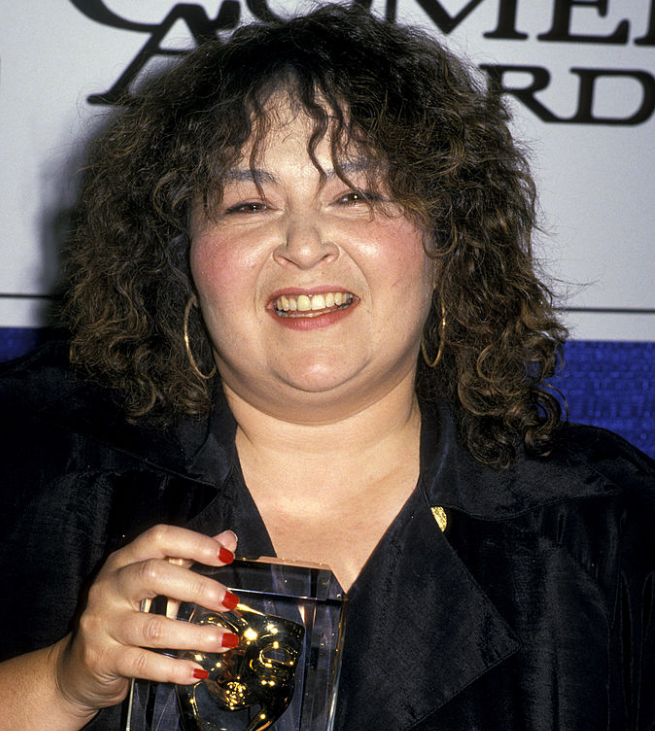 Despite Roseanne's domineering demeanor, her persona came out as a devoted wife, mother, and grandmother.
Yet, Roseanne Barr faced challenges and was forced to make a choice that no mother should ever be forced to make before she rose to fame as an award-winning actress.
On November 3, 1952, Roseanne Cherrie Barras was born in Salt Lake City, Utah. She was raised in a working-class Jewish family with Russian ancestry; her mother worked as a bookkeeper and her father as a salesperson.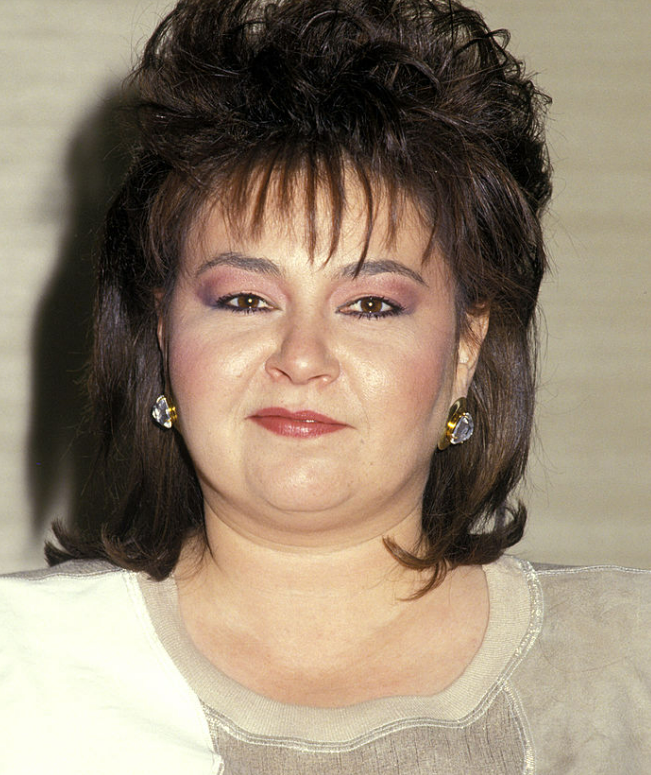 Roseanne's paternal grandpa decided to alter his last name to "Barr" after he reached the United States, which prevented her from inheriting the last name Borisofsky.
Roseanne's upbringing was greatly influenced by her Jewish heritage; the family admired and respected her powerful, Orthodox Jewish maternal grandmother.
Roseanne's parents wanted to maintain a low profile when she was growing up, so they concealed their Jewish heritage from their neighbors and acquaintances. The family joined the neighborhood Mormon Church as a result.
"Friday, Saturday, and Sunday morning I was a Jew; Sunday afternoon, Tuesday afternoon, and Wednesday afternoon we were Mormons," Barr said.
As a Jewish outcast in the strict Mormon society of Salt Lake City, Roseanne's life story was one of drama and challenges.
"You weren't supposed to think there. First of all it was frowned upon to be a girl, and second of all to be a fat, dark-haired girl who had no waist, and third to be a loudmouthed, short, fat, dark girl," Roseanne told The Guardian in 2008.
When she was only three years old, she was diagnosed with Bell's palsy, also known as "acute facial palsy of unknown cause." Roseanne's facial paralysis resulted in a temporary inability to control her facial muscles on the left side of her face.
"My mother called in a rabbi to pray for me, but nothing happened. Then my mother got a Mormon preacher, he prayed, and I was miraculously cured," Roseanne told the Jewish Journal in 2006.
Roseanne, who claims to be on the autism spectrum, experienced another terrible incident when she was 16 years old. She sustained a traumatic brain injury after being struck by a car, which would have long-term effects on her life. Roseanne suffered a major brain injury, and her personality drastically changed as a result. She spent months in a mental hospital.
Hollywood's anti-celebrity admitted that she still experiences the consequences occasionally when speaking with reporters in 2006.
Roseanne was the family's after-dinner comedian and was naturally good at telling jokes and making people laugh. She claims her father is responsible for her comic side.
When Roseanne was chosen president of a Mormon youth group at age 6, she began to "perform" in front of crowds on public stages by giving sermons at churches all around Utah. Roseanne relocated to Colorado after leaving her parents' house when she turned 18. She claimed that her trip would merely be to see a friend, but Roseanne never showed up.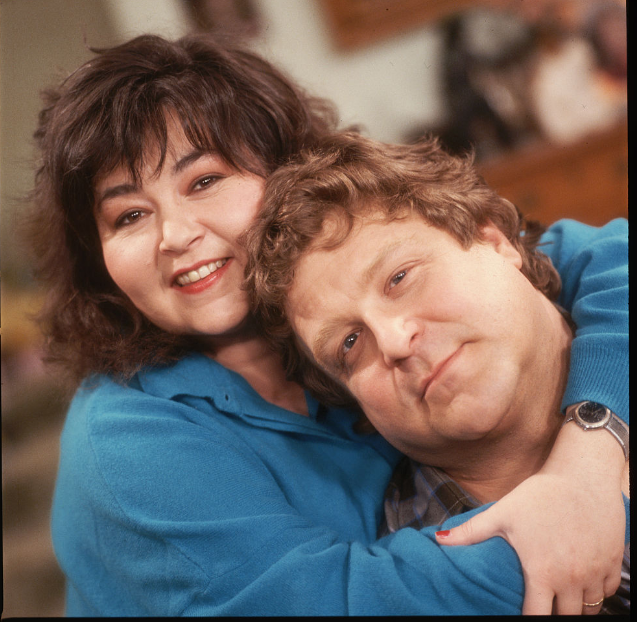 During the early '80s, she took "every minimum wage job you could get" in Colorado. Only, the outspoken Roseanne always got fired for talking back to her bosses. However, her life would change completely while she worked as a rude cocktail waitress who made harsh jokes to everyone at the bar.
"My customers encouraged me to go down to this comedy club. I didn't know it was there. So I went down there and watched everybody," Barr told Hawaii Tribune-Herald.
A year later, she had assembled five minutes of original material, made the trip to California, and finished. She was found by comedian George Schlatter after a successful performance at the renowned Comedy Store in Los Angeles. In the years that followed, she appeared on Late Night with David Letterman in 1986 and The Tonight Show in 1985.
Roseanne made a splash in the largely male-dominated field of stand-up comedy with her funny performances; she was frequently seen making fun of her supposedly poor husband.
During her breakthrough, she became strongly associated with the phrase "Domestic Goddess", referring to a housewife. Her humor often had a working-class edge, and in 1987 she revealed where she had gotten her inspiration from.
"It's all personal experience. I'm not an actress. I'm not Meryl Streep. I don't go up there and invent all this stuff. It has to come from what you really feel and believe, or else it's not real. And if it's not real, people don't think it's funny," she told Forth-Worth Star-Telegram.
Barr became a megastar in the late 1980s after playing Roseanne Conner in the ABC sitcom Roseanne. The famous series was inspired by the producers of The Cosby Show's desire to create "no-perks family comedy." They employed Matt Williams as the author, and he used several factory employees as the inspiration for the script. The plot revolved around a chubby blue-collar couple and their kids.
The first episode of Roseanne, which debuted in 1998, was watched by 21 million homes, making it the best debut of the year.
Yet after watching the pilot, the main character was not pleased. She was actually pretty irate. Roseanne learned that Matt Williams, a writer, had been given credit for "creating" the entire series at that point.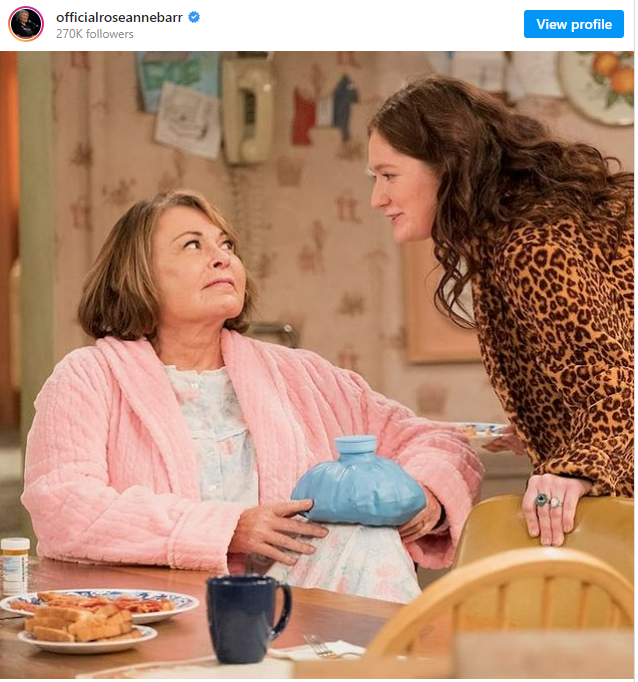 She reacted immediately.
"We built the show around my actual life and my kids. The 'domestic goddess', the whole thing," Barr said.
The conflict with Williams would rage on for several years. Roseanne wanted more control over the script – sometimes, she refused to say certain lines; other times she just walked off stage. It went so far that Roseanne threatened to quit if Williams was not replaced.
Since Barr was the show's big star, she eventually got what she wanted. Other writers replaced Williams after the thirteenth episode.
Perhaps it was the right decision. After all, Roseanne was a real success and would go on to last for ten seasons. In addition, Barr won several awards, including an Emmy and a Golden Globe.
But in 2018, all came crashing down. That's when Barr was fired from her biggest acting gigs of all time after posting a tweet where she described President Obama's advisor Valerie Jarrett using references to "Planet of the Apes" and the Muslim Brotherhood. Just hours after the tweet, ABC decided to cancel the show and fire Barr from her self-titled sitcom. According to the network, Roseanne's tweet was "abhorrent, repugnant and inconsistent" with the company's values.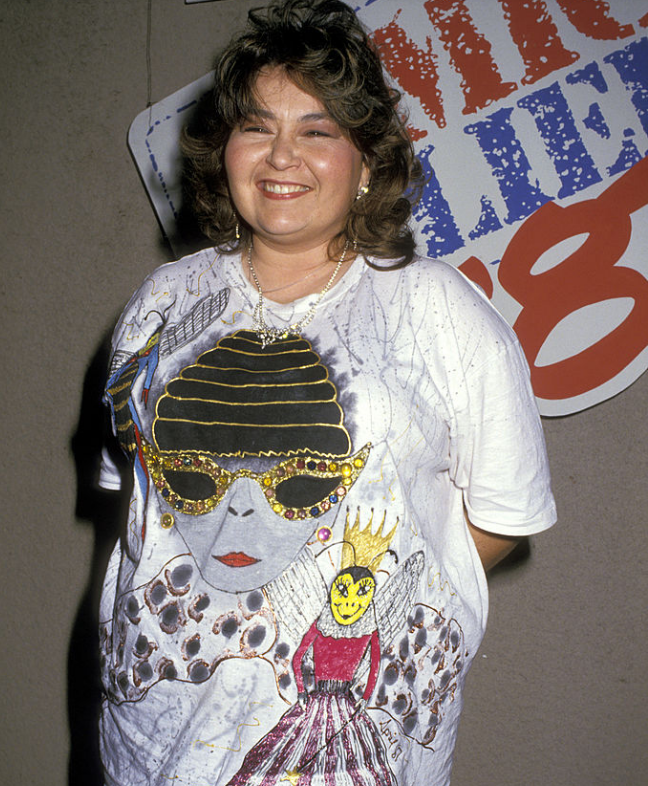 The controversial comedian, who "horribly" regretted her tweet afterward, now says ABC didn't care about her apology.
"During the initial call, I told them I thought [Jarret] was white. I said I would go on my show and explain it. They wouldn't let me. They decided I was a liar in my apology," she told LA Times in 2023.
After being fired, Roseanne lost her livelihood and says she was left without hope. In an interview with Washinton Post, Barr also hit back against her former colleague, actress Sara Gilbert.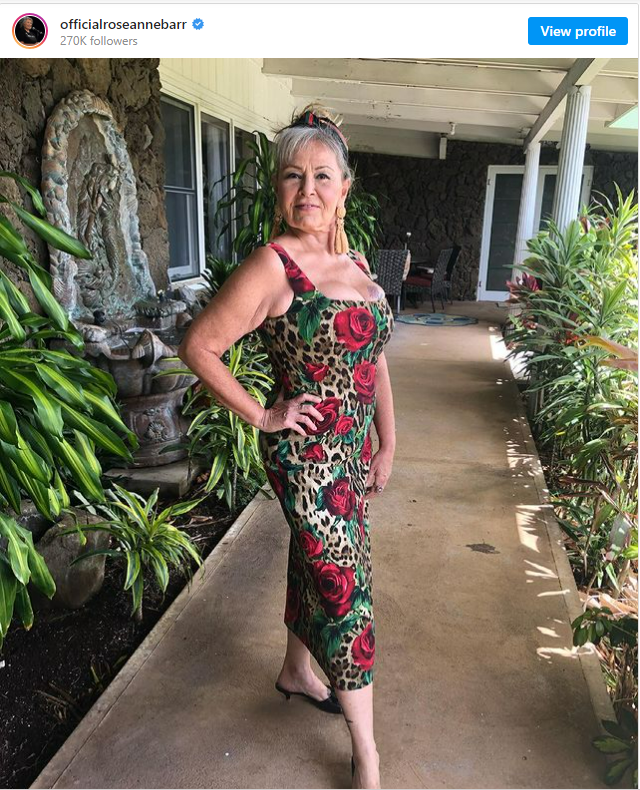 Gilbert, best known for her role as Darlene Conner on Roseanne, came out and condemned Barr, saying neither she nor anyone else in the production supported Barr and what she had said.
"She destroyed the show and my life with that tweet. She will never get enough until she consumes my liver with a fine Chianti," Barr said.
So, Roseanne didn't just have to deal with her network turning its back on her, but also the same people she worked with every day on set.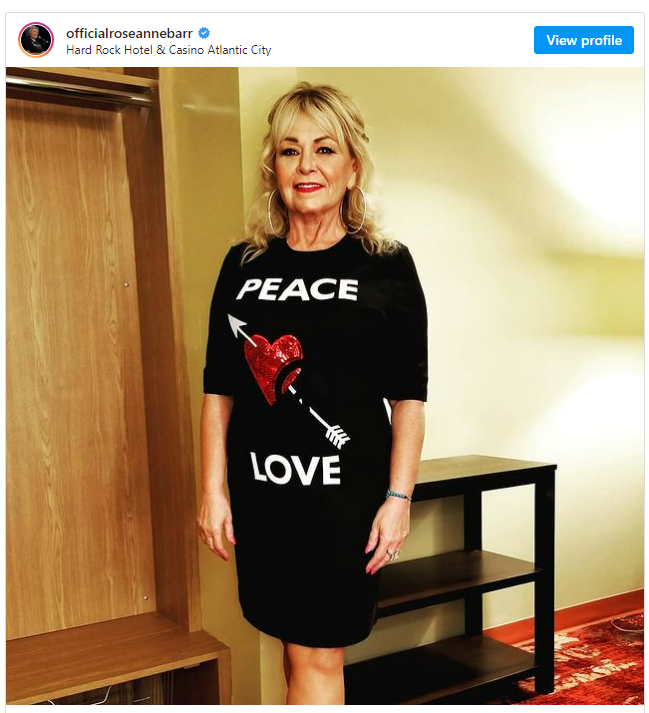 "It was a witch-burning. And it was terrifying… I would die many times."
Roseanne Barr singing the "The Star-Spangled Banner"
Before everything happened around the sitcom Roseanne, the comedian didn't have the best reputation either. In 1990, her scandal-ridden behavior during a baseball game, when Roseanne sang "The Star-Spangled Banner" in a disrespectful manner, caused a particular stir.
While performing the anthem in front of 27,000 fans, Roseanne all of a sudden grabbed her groin and spat. Baseball fans and sportswriters went through the roof; then-President George H. W. Bush called it "disgraceful.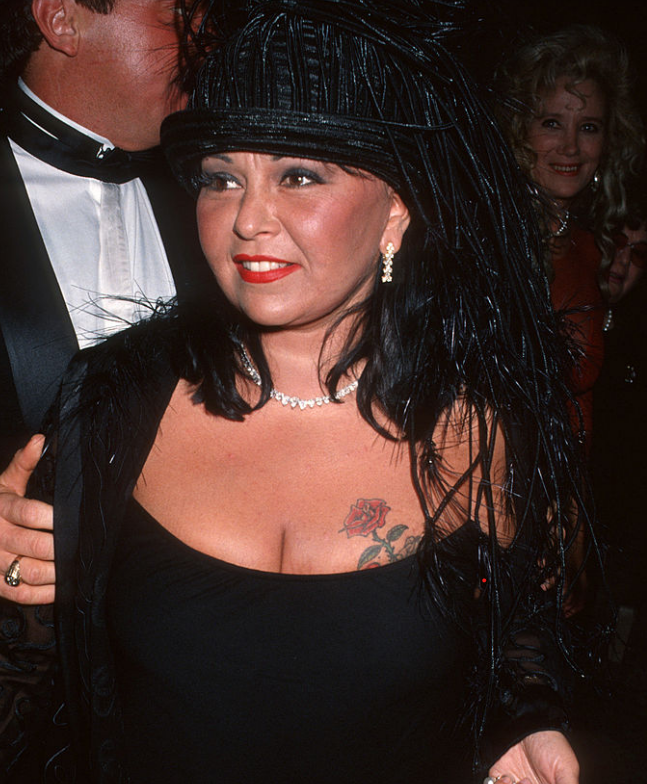 "I'm not going to apologize for doing it, because I feel like it was the wrong choice for all of us to make. But not anybody anticipated (the reaction) would be this negative . . . You can all take this as fun or you can act like this is the worst thing committed by an American. I went down there with the best intentions. We thought it would be a fun, positive thing . . . I'm sorry I didn't sing so good. How much more can I say?" Roseanne responded.
Roseanne, who built her career on provocation, later claimed that there was a problem with the public-address system during the baseball game. Therefore, she was forced to sing as loudly as possible to hear herself.
Roseanne Barr has had a charmed career but in her personal life, she has faced a lot of struggles. The actress has always battled with her weight but as she celebrates being 70 years old, she is the healthiest she has ever been!
Over the course of her whole life, Roseanne Barr has struggled with her weight. The actress reportedly hit 350 pounds while entertaining millions on her sitcom Roseanne. In 1998, she underwent gastric bypass surgery.
"I had a huge overhang and I had it taken off. It was a little more than a tuck," she told People.
Roseanne has always been very open about her weight-loss journey, but it hasn't been an easy ride. Fortunately, her decision to go under the knife helped her lose 80 pounds.
"I had my entire digestive system removed, so I should look thinner," she joked in 2007.
As time went on following her gastric bypass, Roseanne began to put on weight again. She couldn't find a way to stay fit, and said that she felt "fat" but "great". By 2014, though, she appeared to have got things under control.
During a press conference where she looked slimmer than ever, she revealed that she had discovered the secret to a healthier life …
"Crack!! I'm doing crack," she joked.
"But seriously…"I'm just doing the things you're supposed to do…you know, moving more, and eating less."
A few months later, in 2014, Roseanne once again stated that she had found the key to a healthier life, calling her new diet "radical and revolutionary".
"I went on a new diet. It's radical and revolutionary. It's where you eat less and move more—you know, just simple. I just want to keep getting healthy and let go of excess baggage to carry around, so I'm lighter on my feet and in my life."
In the mid-90s, Roseanne also underwent breast reduction, a tummy tuck, and a nose job. During this period, the award winning-actress was in "a horribly dysfunctional relationship" with comedian Tom Arnold. The plastic surgeries – and everything that came with it – became an escape for her.
"I think that's why I had all that surgery. Every time I had a break I would have surgery. I think just to get away from him [Arnold] and then when I came back there'd be nurses in the house and I wouldn't be alone with him," Roseanne told The Guardian.
In 2019, Roseanne revealed that she was unhappy with her butt, and wanted to do something about it.
"I have a thing for butts because I never had a butt my whole life and I've always felt deprived," she told DailyMailTV. "When I see these Kardashians and these young women … think, 'Maybe I could get a butt like that.'"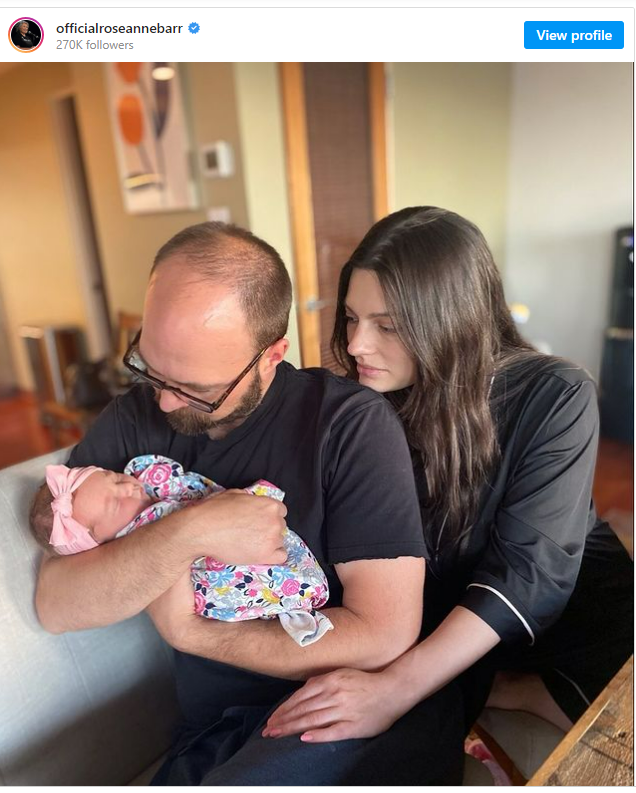 Once again, Roseanne picked up the phone and called the plastic surgeon.
"I did have one procedure where I got the fat sucked out of my stomach and put in my butt because I just wanted to see what it would be like to have some shape of my butt," Barr explained.
Roseanne has tied the knot three times in her life, and has five children.
In 1970, when she was 18, Roseanne fell pregnant for the first time. She knew she wanted to keep the child, but her circumstances made it difficult; she was unmarried, had no job, and had no partner. Not only that, but she was on welfare and living in a bug-infested room that she rented for $50 a month.
In addition, Roseanne's own family were not particularly interested in helping, so she moved to Denver. There, Roseanne moved into a home for single moms in Colorado, run by the Salvation Army.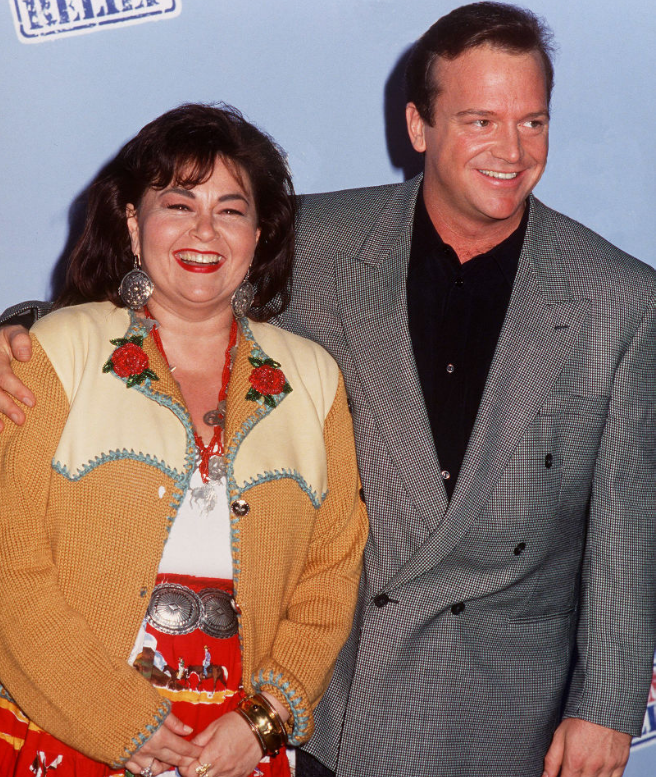 Just nine days after arriving in Denver, she went to the hospital to give birth to her daughter, Brandi Ann Brown. She was born on May 16, 1971, though the baby girl did not get much time with her mother.
Shortly after the birth, Roseanne took the extremely tough decision to give her daughter up for adoption. Brandi went to a Jewish family where she was showered with love – her adoptive parents had reportedly waited almost ten years to have a baby.
Roseanne was obviously heartbroken about being separated from her daughter, but she knew she would see Brandi again someday.
When the time came to give away her newborn daughter, she whispered one thing in Brandi's ear:
"You remember this. I'll see you when you are 18."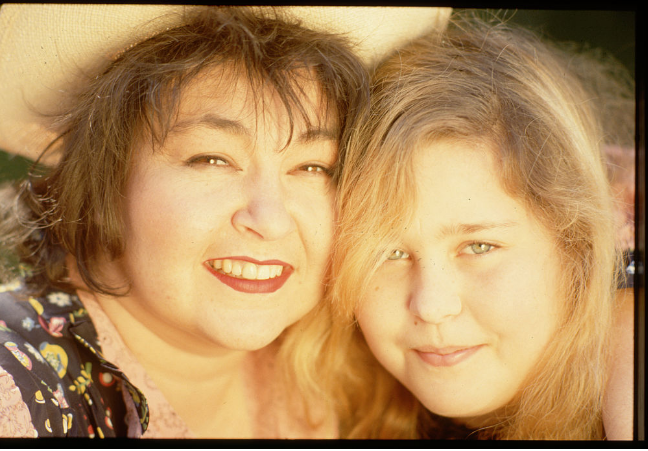 After the traumatic adoption process, Roseanne continued with her own life. She would find love again when she married her first husband, Bill Pentland.
The couple first met in 1972 in Utah, and together raised three children; Jessica, Jake, and Jennifer.
When Roseanne broke through as a stand-up comedian, she often drew her inspiration from Bill, her first husband. She could be quite harsh and ruthless towards her husband when she was on stage, but he was said to be a very lovely and caring partner.
Bill was very supportive and even wrote some jokes for Roseanne. He also helped create his wife's on-stage persona.
But as Roseanne became an increasingly public figure, her marriage deteriorated. After 16 years together, the couple went their separate ways.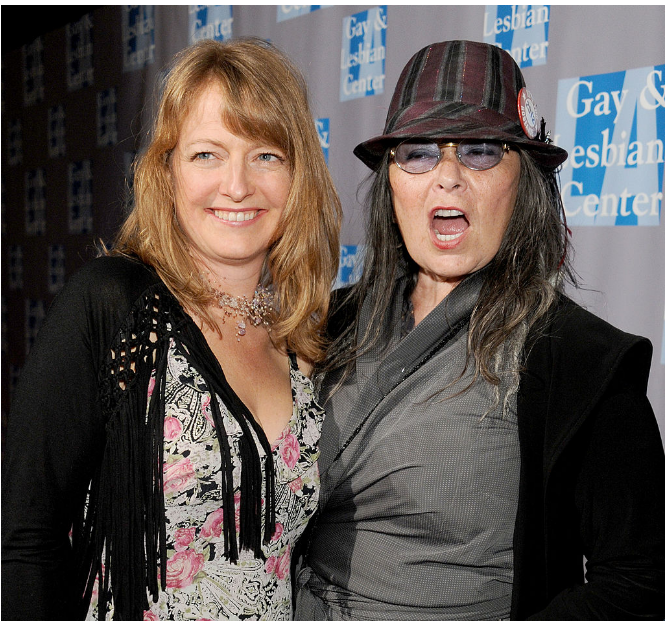 Both Roseanne's daughters from the marriage with Bill would later join the entertainment industry. Jessica, born in 1975, has worked in Hollywood for many years and made a living as a producer and a writer.
For example, she worked alongside her mother and wrote an episode for her mother's comedy series in 1997.
Jennifer, born in 1976, has also worked as a writer and producer in Hollywood. Judging by her Instagram, she's married and has multiple kids.
Roseanne Barr's first son, Jake, also got the Hollywood bug and works as a writer, producer, director, and editor. Like most of Roseanne's children, Jake has worked a lot on his mother's projects like "Rockin' with Roseanne" and "Roseanne's Nuts".
Besides his work behind the camera, he's also a father. In 2021, Roseanne Barr revealed that Jake and his partner had welcomed a baby daughter by sharing a photo of the family of three on her Instagram page.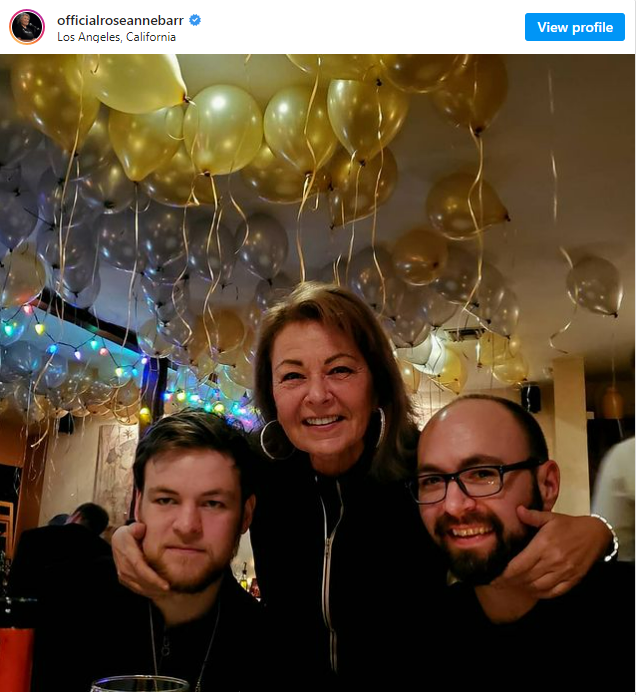 Just four days after divorcing her first husband, Roseanne married Tom Arnold, also a comedian.
Around the same time, Roseanne got a phone call that changed everything.
"A tabloid called to tell me, "We found your daughter." I was stunned.
"They had gotten hold of the birth certificate of the baby girl I bore out of wedlock and gave up for adoption after nine days in Denver when I was 18. I was so pissed off. I had left information allowing her to find me when she turned 21. I had even told my own kids about the adoption a year earlier because I knew she was 17 and might try to find me," Roseanne told People.
Roseanne decided to hire a private investigator to track down her daughter before she might stumble upon the information concerning her famous mom in the magazines.
Roseanne managed to get hold of her daughter and the couple who adopted Brandi. Finally, one month after the call from the tabloid, the mother and daughter reunited at the Westwood Marquis Hotel.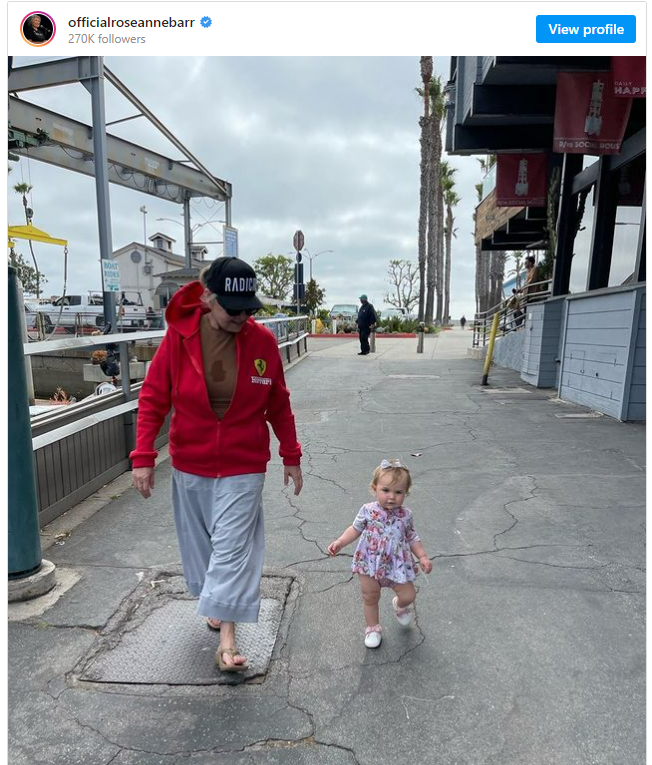 It was a very emotional meeting.
"We looked at each other, and we started running toward each other. We embraced and wouldn't let go of each other, hugging and crying," Roseanne said.
Brandi has followed in her biological mother's footsteps and in 1997, she appeared in an episode of "3rd Rock from the Sun". She has also worked a lot behind the camera as a production assistant and field producer.
Roseanne divorced Tom Arnold in 1994, and married Ben Thomas, her personal bodyguard, one year later. Together, they had a son named Buck Thomas, after Roseanne became pregnant through in vitro fertilization.
Not much is known about Buck, but it doesn't seem like he's pursuing a career in acting. He likes to keep out of the spotlight, but his mother sometimes posts photos of him on her Instagram page.
Roseanne and Ben split up in 2002. Today, Roseanne lives with Johnny Argent, a writer and producer from Maryland. They started dating after a writing competition on her blog. Today, the couple spends most of their time at her 2,212-square-foot farm in Hawaii.
"My boyfriend and I are kindred spirits. He is feminine in a way. When he used to write for me he lived in the desert. He was like a hermit just with his books," Roseanne told The Guardian.
Today, Roseanne Barr lives a quiet life in Hawaii and the mother of five has been blessed with multiple grandchildren. In an interview with Extra in 2018, the Emmy Award-winning actress revealed that she had found solace in her grandchildren and her big family.
"I have six grandkids. That's what changed the most in my life. You've got to be pushier to your kids and make sure they do right by their kids, so it kind of gives you an excuse to be a big b**ch that you've always wanted to be."
Today, Rosanne often posts pictures of her grandchildren and she seems to be very proud of every single one. In November 2021, she posed together with 6 of them on the beach and wrote: "Fun w a few grands".
Roseanne Barr net worth, salary
Only one lady earned more than Roseanne did at the height of her career: Oprah Winfrey. She earned $40 million for the final two seasons of Roseanne, making her the second-highest paid woman in the business.
And given how well she did on Roseanne, it appears that Roseanne has a stable source of money. Roseanne Barr has an estimated net worth of $80 million at this time, claims Celebrity Net Worth.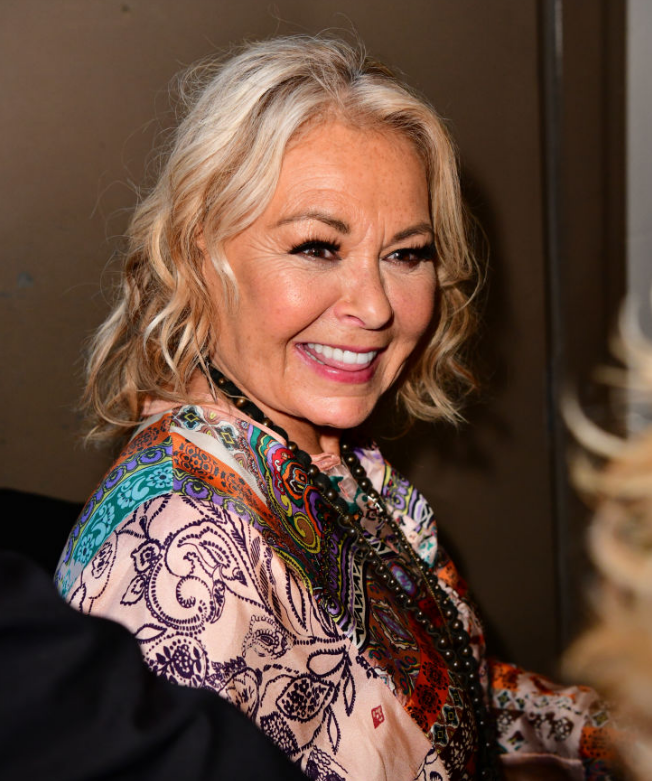 She has invested some of her millions in real estate, with some ventures turning a profit and others not.
When Roseanne bought her ranch-inspired house in Hawaii in 2007, she paid $1.78 million for the property. It's known as the Hidden Hamakua Farm and includes 2,000 macadamia nut trees, an organic garden, and a beehive.
Indeed, Rosanne Barr has endured a lot in her life; I had no idea she had given up her first child for adoption. Despite her history of controversy, she has had a huge impact on both the comedy profession in general and the TV industry in particular.
She appears to lead a very healthy and happy life based on images of her taken in the present. She is undoubtedly not struggling with her weight, and it appears that she has found peace and harmony.
Have you seen Roseanne? Or do you remember this famous comic in any other ways? Please feel free to comment on our Facebook page with your ideas!